Bambang Muryanto

The Jakarta Post
Yogyakarta | Tue, March 21, 2017 | 08:19 pm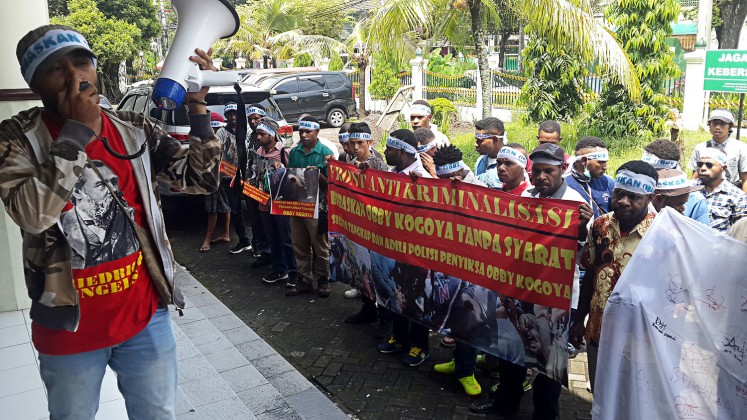 Fight for justice: Activists and Papuan students join with the Indonesian People's Front for West Papua's Yogyakarta branch and the Alliance of Papuan Students to stage a rally in front of the Yogyakarta District Court on March 21. (JP/Bambang Muryanto)
The Yogyakarta District Court on Tuesday began the trial of Obby Kogoya, 22, a Papuan student suspected of committing violence against police personnel before a rally on Jl. Kusumanegara in July last year.
Obby is the first ever Papuan student in Yogyakarta to face trial because of political activities.
Prosecutor Iswahyudi said in his indictment that Obby had fought against on-duty state officials, using violence or violent threats. The defendant had violated Article 213 (1), Article 212 and Article 351 (1) of the Criminal Code (KUHP), which carried a maximum sentence of five years in prison, he added.
"When the defendant was to be taken into custody, he brutally hit police officer Ronny Prasadana using his left hand, affecting his face, temples and eyes," Iswahyudi said during a hearing at the court on Tuesday. Another officer, Priambodo Rochman, also allegedly suffered injuries in the attack.
The incident occurred as Obby prepared to join Papuan students in a rally on July 15 to support the United Liberation Movement for West Papua becoming a permanent representative of the Melanesian Spearhead Group, which was meeting in Vanuatu. The students had planned to march from the Kamasan I boarding house to Titik Nol in the center of Yogyakarta.
Obby raised his objections over the indictment. Presiding judge Wiwik Dwi Wisnuningdyah said the trial would continue next week, when the court is scheduled to hear from the defendant. (ebf)
Papuan student faces trial in Yogyakarta over political activities was originally published on thejakartapost.com