NALYSIS: By Rod Campbell, Asia Pacific Repot NZ
As much of the world watched the G20 last week, another leaders' summit was on in Fiji.
Fiji will chair the next UN climate conference in November. Pacific leaders gathered in Suva to discuss how they can use this opportunity to call for serious climate action.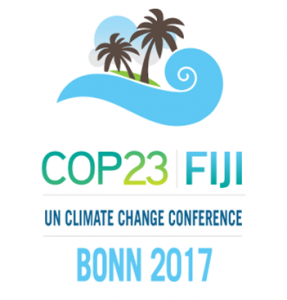 This meeting did not attract Australia or New Zealand's big name journalists or even many Australians at all.
Had they been there at the COP23 Climate Action Pacific Partnership (CAPP) talks, Australians might have been surprised at what was and wasn't talked about in Suva.
There was much discussion on how the Pacific can reduce its own (globally miniscule) emissions. Plenty was also said about how islanders can prepare for climate change with better farming techniques.
On the other hand, almost nothing was said about how the Pacific can get the rest of the world to do something meaningful on climate.
This is not an accident.
Emissions 'declining rapidly'
Australia sent our Minister for International Development and the Pacific, Concetta Fierravanti-Wells. She boasted to Pacific leaders that our emissions are declining rapidly on a per capita basisand emphasised that Australia had put up $6 millionto fund these talks.
She omitted to say that Australia's overall emissions are actually increasing and those per capita reductions just reflect that our population is increasing faster than our emissions.
She also didn't mention that the $6 million for the talks represents nearly 1/10th of the annual budget for climate aid to the Pacific. Or that much of our climate aid isn't new money, but comes at theexpense of other aid programmes.
Another Australian speaker was from the Clean Energy Finance Corporation (CEFC), there to tell the Pacific how to increase investment in renewable energy. Surprisingly, he didn't say that renewable investment in Australia has stalled due to policy uncertainty such as the government's repeated attempts to abolish his own organisation.
When I asked what lessons the Pacific could take from the toxic politics around renewable energy in Australia, the moderator, an official from the Asian Development Bank, refused to let the panel answer the question. He said the session was about looking forward, not backward.
Maybe he just didn't realise that the Australian government is currently changing legislation to let the CEFC invest in coal, or that in August it will appoint goodness-knows-who to the CEFC board in a near complete turnover.
Or maybe he did know this and just didn't care. Because it was very clear at these talks that no one is supposed to say anything that might upset Australia and risk a cut to the 2 percent of ourrecord-low aid budget that goes to Pacific climate aid.
Uncomfortable truths
The only people who can point out these uncomfortable truths in the Pacific are either very brave, or are Australians with no links to the Federal government. That's how I found myself on a panel in Suva to talk about fossil fuels with a prominent civil society advocate, Emele Duituturaga, and a diplomat from the Marshall Islands, whose President has called on Australia to end new coal approvals.
It was up to us to discuss the elephants in the room – like Australia's plans to double coal exports and the $1 billion subsidised loan to Adani that will contribute to this.
Another elephant in the room was the opportunity that Fiji and the Pacific have in chairing the COP23 talks. Putting a moratorium on new coal mines on the agenda will send a powerful message to fossil fuel exporters like Australia.
In addition to Pacific Island countries, a call for no new coal mines could find support from countries that have already restricted new coal development, such as China and Myanmar.
France has gone further with restrictions on all new fossil fuel exploration.
These countries realise that by allowing existing mines to produce, but not replacing them at the end of their economic lives, disruption to the industry is minimised. A moratorium on new mines also keeps coal prices higher, helping the transition to cleaner energy sources.
Putting a moratorium on the agenda for November's talks could give the Pacific a powerful diplomatic tool to force real climate progress and reduce the influence of the fossil fuel industry.
Helping the Pacific
It's important to remember that some Pacific countries have populations smaller than Australian suburbs. Imagine a group of under-resourced Australian councils taking on the coal industry on behalf of the rest of the world. They shouldn't have to.
Public support from Australian local and state governments, unions and other organisations would go a long way to helping the Pacific tackle our coal industry and its supporters in the Federal government.
Australia and our coal has a big influence on people's lives in the Pacific. It's about time
Australians started giving not just aid, but giving help. Make a start via the petition atwww.nonewcoalmines.org.au
Rod Campbell is the research director at The Australia Institute. Republished with the permission of TAI.

@R_o_d_C