The United Liberation Movement of West Papua has officially submitted an application for full membership in the Melanesian Spearhead Group.
The Liberation Movement already has observer status in the regional group whose full members are Papua New Guinea, Fiji, Solomon Islands, Vanuatu and New Caledonia's Kanaks.
A formal handover for the Liberation Movement's membership application took place at the MSG's Secretariat in Vanuatu's capital Port Vila.
Vanuatu's Foreign Minister Ralph Regenvanu said the membership application follows new membership criteria and procedure as approved at last year's MSG Summit in Port Moresby.
The new application was yesterday presented to the MSG secretariat in Port Vila on behalf of the Liberation Movement by Vanuatu's Special Envoy for West Papua, Lora Lini.
Ms Lini said that the application was made according to membership criteria established by a MSG Sub-committee on Legal and Institutional Issues.
"This particular criteria has been to the leaders, has been to the officials, the foreign ministers. That's why this was approved last year by leaders," she explained.
"The current application by ULMWP is in compliance with the criteria."
While the Liberation Movement has carefully followed the guidelines in its application, the MSG's decision will be a political one.
"It will all boil down to that," Ms Lini admitted, "but with the criteria, it should give some guidelines to leaders."
Meanwhile, Mr Regenvanu called on MSG leaders to favourably consider the application and elevate the Liberation Movement to full membership.
It has been well canvassed since the Liberation Movement was formed in Vanuatu in 2015 that it sought full membership in the MSG, much like the Kanaks' FLNKS Movement.
In the past few years, MSG member governments have been divided over whether to elevate the West Papuans' status in the group.
The membership bid's prospects of being approved depend largely on a change in position from PNG and Fiji who have been the strongest supporters of Indonesian rule in West Papua.
United Liberation Movement for West Papua chairman Benny Wenda Photo: RNZI / Koroi Hawkins
Indonesia, which has associate member status in the MSG, is strongly opposed to the Liberation Movement. According to Jakarta, West Papuans are already represented in the MSG by Indonesia's position in the group.
Jakarta has also described the Liberation Movement's chairman Benny Wenda, who was granted asylum in Britain in 2003 after fleeing his homeland due to charges related to his pro-independence activities, as a criminal fugitive. Mr Wenda is generally considered a legitimate West Papuan leader in the Pacific.
Vanuatu advocacy
Vanuatu played a central role in the emergence of the Liberation Movement and has helped prepare the pro-independence Papuan organisation's MSG membership bid.
In 2016 and 2017, numerous Pacific Islands governments took Vanuatu's lead and spoke out strongly over their concern for West Papuan human rights and self-determination at the United Nations.
Yet as a result of its determined diplomatic outreach in the Pacific, Indonesia has more recently made inroads in eroding the support for Vanuatu regarding West Papua.
However, changes in leadership in the past couple of months in Solomon Islands and PNG could shift dynamics within the MSG.
"Vanuatu will definitely be seeking their support at the coming MSG leader's summit (in Vila), to support the application by the ULMWP," Ms Lini said.
Vanuatu's prime minister Charlot Salwai (left, with New Zealand counterpart Jacinda Ardern) is hoping for support for its West Papua advocacy from regional countries such as New Zealand. Photo: RNZ Pacific/ Johnny Blades
But the two incoming prime ministers are not necessarily going to guarantee safe passage for the Papuan membership bid.
In Solomon Islands, since being re-elected in April, Manasseh Sogavare has distanced himself from his previous strong support of Papuan independence aims during his last stint as prime minister,
PNG's new leader, James Marape, is unlikely to change his country's long-running policy of firm support for Indonesian control of Papua. Mr Marape said he will look to focus on growing trade links with Indonesia "in a big way".
Despite this, Vanuatu is applying fresh impetus to the West Papuan issue within the MSG whose rotational chairmanship it is due to take up this year.
Vanuatu's efforts at the MSG are part of a wider campaign to bring the Papua issue to the global community, with plans for UN resolutions including one seeking Papua's re-inscription on the decolonisation list.
Fiji's government criticised
The West Papua advocacy by Vanuatu's government contrasts starkly with that of Fiji's government which has forged close ties to Jakarta, and was instrumental in helping Indonesia join the MSG in 2011.
In Fiji's parliament this week, opposition member Anare Jale accused the Frank Bainimarama-led government of being silent on violations against West Papuans.
"Serious human rights abuses have been taking place in West Papua and we have chosen to look the other way," he said.
"How long can Fiji close her ears to the cries for freedom from our fellow Melanesians? It is blatantly obvious that Fiji has succumbed to Indonesia's cheque-book diplomacy – what a shame."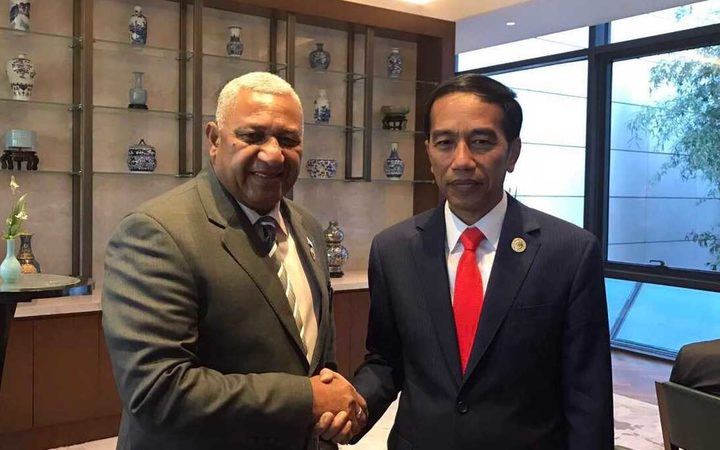 Fijian Prime Minister Frank Bainimarama with Indonesian President Joko Widodo, May 2017 Photo: Supplied/Fiji Government
Mr Jale said the MSG had lost its way and intent and had failed the people of Melanesia in the Pacific.
"The Melanesia forum was meant to look after the interests of Melanesians and the complaints and cries of the people of the region particularly in West Papua have been neglected," Mr Jale said.
But Fiji's Foreign Affairs Minister Inia Seruiratu refuted Mr Jale's claims.
"When you look at the MSG and in terms of its strategic advantage we are the mass of this region in terms of strengths of the economy," Mr Seruratu said.
"We now have our trade agreements. We just need to strengthen the MSG and it's the leadership of the MSG that will make it work."
Source: NRZ