Benny Wenda has been declared the interim president of a West Papuan 'government-in-waiting', and tells Chantal Da Silva, Indonesia's in the province is 'illegal'
For more than two decades, Benny Wenda, a West Papuan liberation leader exiled in the UK, has been fighting for the province's independence from Indonesian rule.
After years of seeing his calls for West Papua's liberation fall on deaf ears, however, on Tuesday, Mr Wenda and other leaders of the United Liberation Movement for West Papua (ULMWP), took matters into their own hands, declaring a provisional "government-in-waiting" for the contested province, with Mr Wenda nominated as its "interim president".
The announcement, which came as West Papuans observed the province's "independence day," or the anniversary of West Papua's declaration of independence from Dutch colonial rule in 1961, marks a significant step in West Papuans' fight for liberation – a battle that has spanned decades after Indonesia took military control of the province in 1962.
Speaking to The Independent on Tuesday, Mr Wenda said the establishment of a "united government-in-waiting" should send a clear message to the Indonesian government: that West Papuans will not "bow down" to Jakarta.
"We are now restoring our provisional government and our constitution to show that we run our own affairs and that [Indonesia's] presence in West Papua is illegal," Mr Wenda said.
"We were an independent country before and that is why it is important for, from now on, to never bow down to Indonesia."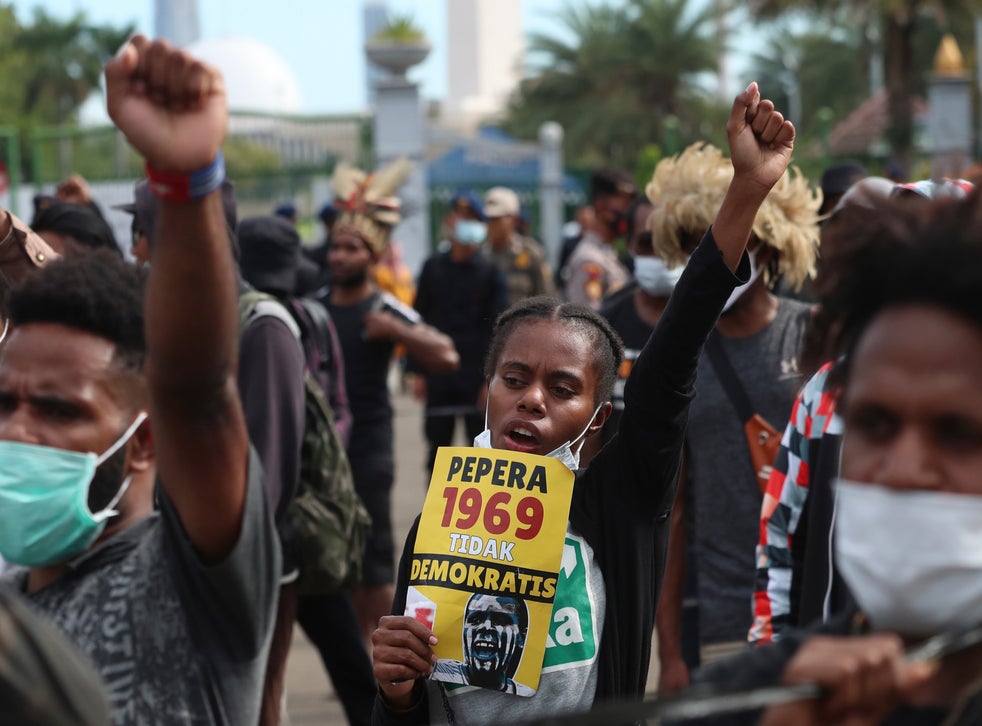 The declaration came as the United Nations said it was "disturbed by escalating violence" in West Papua, including the alleged killing of a child by security forces.
"We are disturbed by escalating violence over the past weeks and months in the Indonesian provinces of Papua and West Papua and the increased risk of renewed tension and violence", Ravina Shamdasani, spokesperson for the Office of the High Commissioner for Human Rights (OHCHR), said in a statement published on Monday.
Specifically, Ms Shamdasani said she was concerned by reports of reinforced military and security forces, as well as nationalist militias, being implicated in reports of extra-judicial killings, excessive use of force, arrests and the alleged harassment and intimidation of protesters and liberation movement leaders.
In one incident on 22 November, Ms Shamdasani said, a 17-year-old was shot dead, while another 17-year-old was reportedly injured in an alleged police shootout.
Meanwhile, in September and October, there had also been a "disturbing series of killings" of at least six people, including activists and church workers, Ms Shamdasani said. At least two members of the security forces were also killed in clashes, the OHCHR spokesperson noted.
Ms Shamdasani said the recent violence and arrests came as "part of a trend we have observed since December 2018", following the killing of 19 individuals working on the Trans-Papua Highway in Nduga regency "by armed Papuan elements."
In recent years, the province has seen repeated clashes amid growing demands for West Papua's independence.
The regions making up Papua and West Papua, which comprise the western half of the island of New Guinea, were militarily annexed by Indonesia in 1962, later becoming an official part of the Indonesian republic after a United Nations-backed referendum in 1969 called the Act of Free Choice.
For years, however, liberation leaders and their supporters have branded the referendum a "sham" vote, with just over 1,000 Papuans being selected, to vote in favour of Indonesian rule.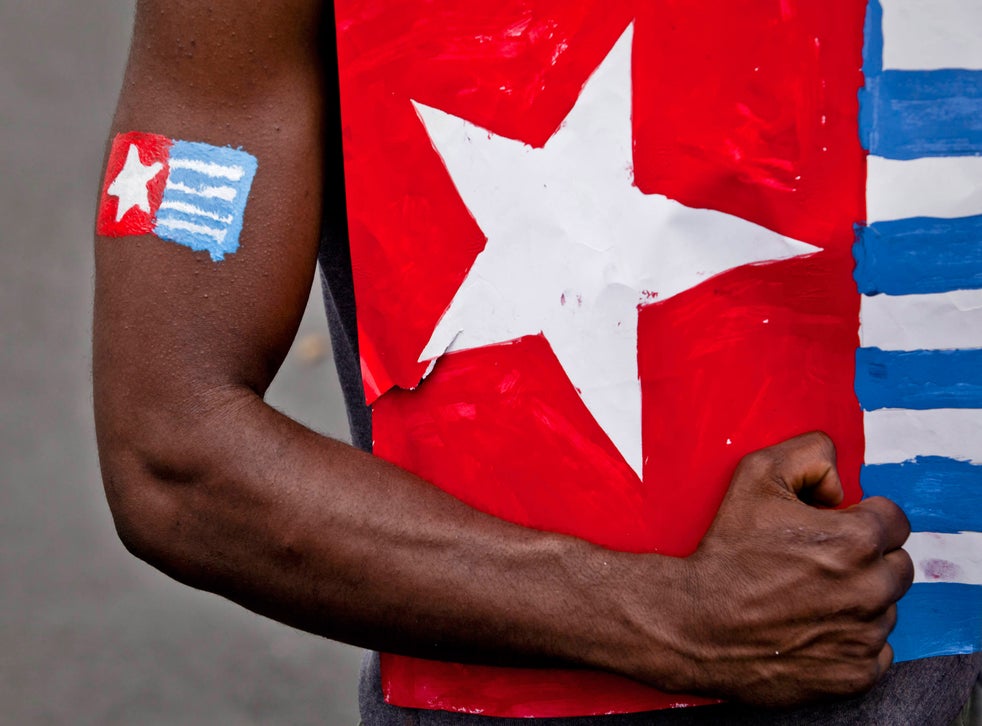 Previously, the UK's own parliamentary group on West Papua has called Indonesia's presence in the province an "illegal occupation" based on a "sham referendum."
Speaking to The Independent back in 2017,  Labour MP Alex Sobel said Indonesia's presence in the region was "an illegal occupation".
"Promised its original independence from the Dutch in 1962, West Papua's incorporation into Indonesia followed in 1969 after what was widely acknowledged to be a sham referendum, engineered by the economic interest of the Indonesia government,"he said.
Noting that the territory is "rich in gold, copper, natural gas, forests and fisheries," Mr Sobel said Indonesia continued to reap the benefits of the land, while "the indigenous population see very little, to no benefit." Mr Sobel has been contacted for comment on West Papuans' Tuesday declaration.
At present, Jakarta is seeking to extend "special autonomy" provisions that were first extended to West Papua in 2001 in what was billed as an effort to give Papuans access to a greater share of the revenue gained from the province's natural resources.
However, independence movement leader have said those provisions have only been used to quell demands for a referendum on secession from Indonesia.
"We do not need Jakarta to take special autonomy," Mr Wenda said.
The only way forward, the liberation leader said, is for West Papua to be recognised as an independent state. However, Mr Wenda acknowledged that it was unlikely that the Indonesian government would formally respond to Tuesday's declaration.
"They look at me as their number one enemy and they never talk to me," Mr Wenda said.
"We know this still has a long way to go and this is a start," he said. "Independence never comes from the heavens, but are starting now because of our people's desire for freedom. We will not bow down to any imposed law."
The Indonesian government has been contacted for comment.